Faith Leaders Call On Lehigh DA Jim Martin to Support Geriatric Parole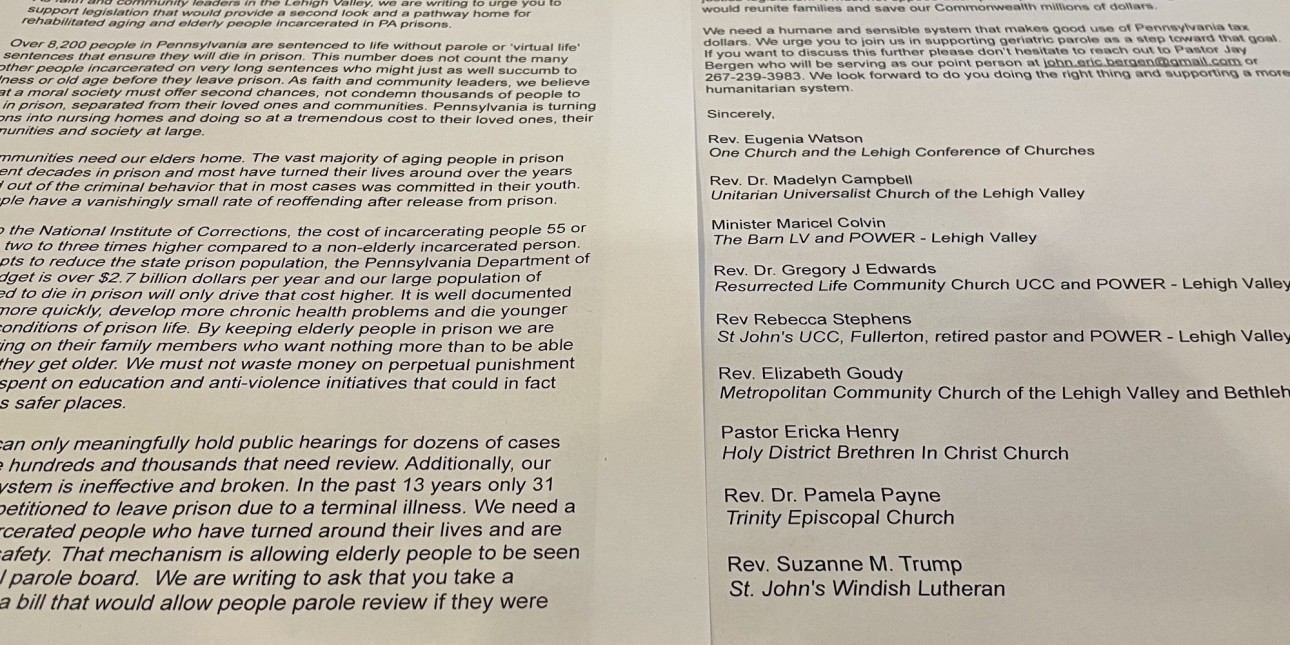 Across Pennsylvania, a movement is growing to demand pathways home for aging incarcerated people in Pennsylvania prisons. District attorneys -who have a powerful voice among legislators in Harrisburg through the Pennsylvania District Attorney's Association- have a special role to play in ensuring humanitarian relief for people who have turned around their lives, but who will die in prison separated from their families without a change in the law. Recently, a number of faith leaders in the Lehigh Valley came together to sign on to an open letter to call on Lehigh County District Attorney Jim Martin to do the right thing and support geriatric parole eligibility.
Read the letter below and add your voice to the growing number of people speaking out and calling for PA district attorneys to support for parole eligibility for aging people in prison.
District Attorney Jim Martin
455 Hamilton St.
Allentown, PA 18101
Thursday, July 28th
To DA Jim Martin,
As faith and community leaders in the Lehigh Valley, we are writing to urge you to support legislation that would provide a second look and a pathway home for rehabilitated aging and elderly people incarcerated in PA prisons.
Over 8,200 people in Pennsylvania are sentenced to life without parole or 'virtual life' sentences that ensure they will die in prison. This number does not count the many other people incarcerated on very long sentences who might just as well succumb to illness or old age before they leave prison. As faith and community leaders, we believe that a moral society must offer second chances, not condemn thousands of people to die in prison, separated from their loved ones and communities. Pennsylvania is turning prisons into nursing homes and doing so at a tremendous cost to their loved ones, their communities and society at large.
Our communities need our elders home. The vast majority of aging people in prison have spent decades in prison and most have turned their lives around over the years and aged out of the criminal behavior that in most cases was committed in their youth. Aging people have a vanishingly small rate of reoffending after release from prison.
According to the National Institute of Corrections, the cost of incarcerating people 55 or older is often two to three times higher compared to a non-elderly incarcerated person. Despite attempts to reduce the state prison population, the Pennsylvania Department of Corrections budget is over $2.7 billion dollars per year and our large population of people sentenced to die in prison will only drive that cost higher. It is well documented that people age more quickly, develop more chronic health problems and die younger due to the harsh conditions of prison life. By keeping elderly people in prison we are inflicting real suffering on their family members who want nothing more than to be able to care for them as they get older. We must not waste money on perpetual punishment that would be better spent on education and anti-violence initiatives that could in fact make our communities safer places.
Our Board of Pardons can only meaningfully hold public hearings for dozens of cases every year instead of the hundreds and thousands that need review. Additionally, our compassionate release system is ineffective and broken. In the past 13 years only 31 people have successfully petitioned to leave prison due to a terminal illness. We need a mechanism to release incarcerated people who have turned around their lives and are no longer a threat to public safety. That mechanism is allowing elderly people to be seen by a modern and professional parole board. We are writing to ask that you take a position in support of SB 835, a bill that would allow people parole review if they were seriously ill or if they were over 55 years old and had served either 25 years or half of their minimum sentence, and to send a letter to the General Assembly urging them to pass such legislation.
Furthermore, we ask that you take a position internally within the Pennsylvania District Attorneys Association (PDAA) and ask that body, which channels the political power of 66 elected district attorneys across the Commonwealth, to support SB 835. The PDAA is a powerful lobby in Harrisburg that has a high amount of influence over criminal justice legislation. It must not oppose attempts to pass second chance legislation that would reunite families and save our Commonwealth millions of dollars.
We need a humane and sensible system that makes good use of Pennsylvania tax dollars. We urge you to join us in supporting geriatric parole as a step toward that goal.
Sincerely,
Rev. Eugenia Watson
One Church and the Lehigh Conference of Churches


Rev. Dr. Madelyn Campbell
Unitarian Universalist Church of the Lehigh Valley
Minister Maricel Colvin
The Barn LV and POWER - Lehigh Valley
Rev. Dr. Gregory J Edwards
Resurrected Life Community Church UCC and POWER - Lehigh Valley
Rev Rebecca Stephens
St John's UCC, Fullerton, retired pastor and POWER - Lehigh Valley
Rev. Elizabeth Goudy
Metropolitan Community Church of the Lehigh Valley and Bethlehem Interfaith Group
Pastor Ericka Henry
Holy District Brethren In Christ Church
Rev. Dr. Pamela Payne
Trinity Episcopal Church
Rev. Suzanne M. Trump
St. John's Windish Lutheran