Fighting for Justice for Fanta Bility, Angelo Ford and Hasein Strand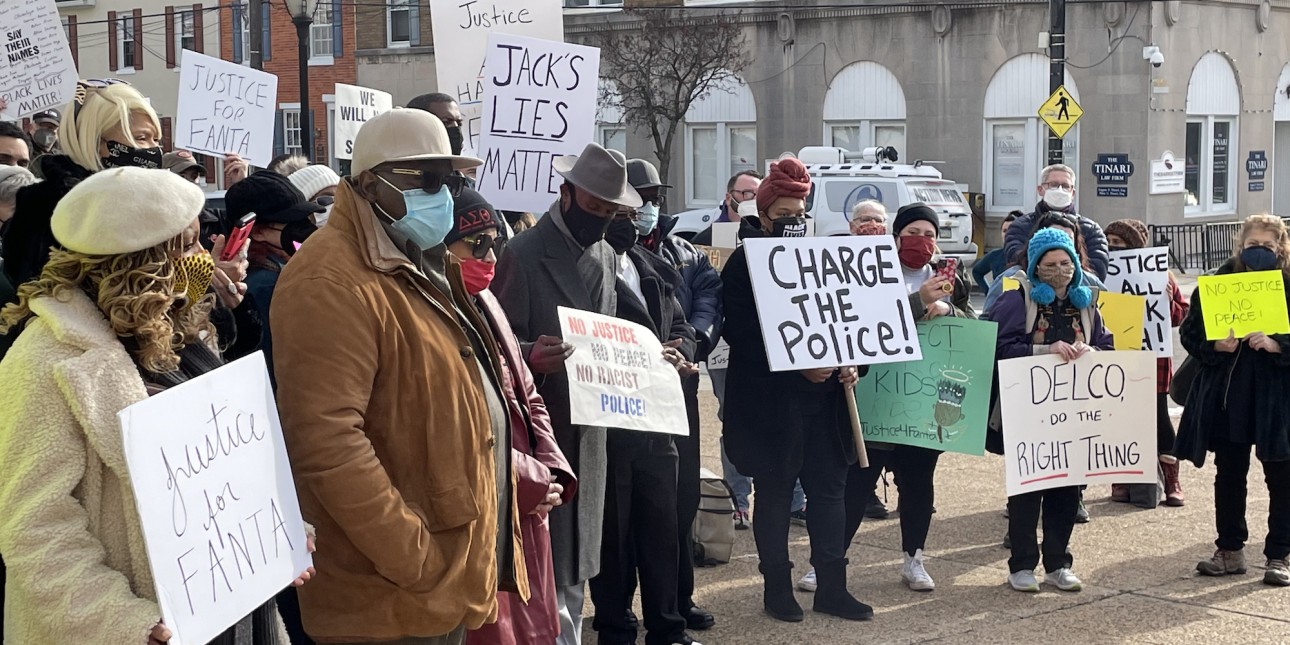 At the end of the summer of 2021 tragedy struck in Sharon Hill, Pennsylvania. Gunshots rang out as people were leaving a high school football game. Responding to the incident Sharon Hill Police unleashed a hail of bullets into a car they wrongly believed was the source of the gun fire.  As a result of the reckless actions of the police 8 year old Fanta Bility, a Black child beloved by her family and community, was killed and 3 others were seriously wounded. 
At first news reports taking the word of the police and Delaware County District Attorney Jack Stollsteimer peddled a confusing version of events that obscured the role of the police in her death. However, in the weeks to come authorities had to admit that the police had fired on people leaving a crowded football game and that they had killed Fanta Bility. 
Sadly, the killing of a Black girl and the wounding of others wouldn't be the only wanton disregard for Black life that stemmed from this tragedy. 
In late September in a move designed to heighten the chances that Sharon Hill Police would not be held accountable, Delaware County District Attorney Jack Stollsteimer declined the opportunity to directly charge Sharon Hill Police for their reckless and deadly actions and instead referred the matter to a grand jury. Referring killings and brutality carried out by police to a grand jury is a typical move of prosecutors to wash their hands in matters of police accountability. 
DA Stollsteimer was the first Democrat elected as district attorney in Delaware County since the Civil War. DA Stollsteimer is someone who campaigned on a promise of righting the racist inequities of the criminal legal system. Instead, it seems he has only amplified them. 
Whereas he referred the actions of the Sharon Hill Police to a grand jury, he would not do the same for Angelo 'AJ' Ford, and Hasein Strand, the two Black teenagers accused of starting a gun fight with each other outside of the Sharon Hill football game. Using a preposterous legal theory based on the doctrine of transferred intent he has charged them both with first degree murder asserting that the teens alleged intent to kill one another should be transferred to the police officers who recklessly fired at a moving vehicle. 
In Pennsylvania, there is but one sentence for a first degree murder charge and that is life without parole. DA Stollsteimer is trying to send these two Black youth to die in prison in an effort to distract from the fact that Sharon Hill police killed Fanta Bility. And while DA Stollsteimer has refused to even release the names of the officers, he has plastered the names of Angelo 'AJ' Ford, who is 16 years old and Hasein Strand, who is 18 years old, all over the media.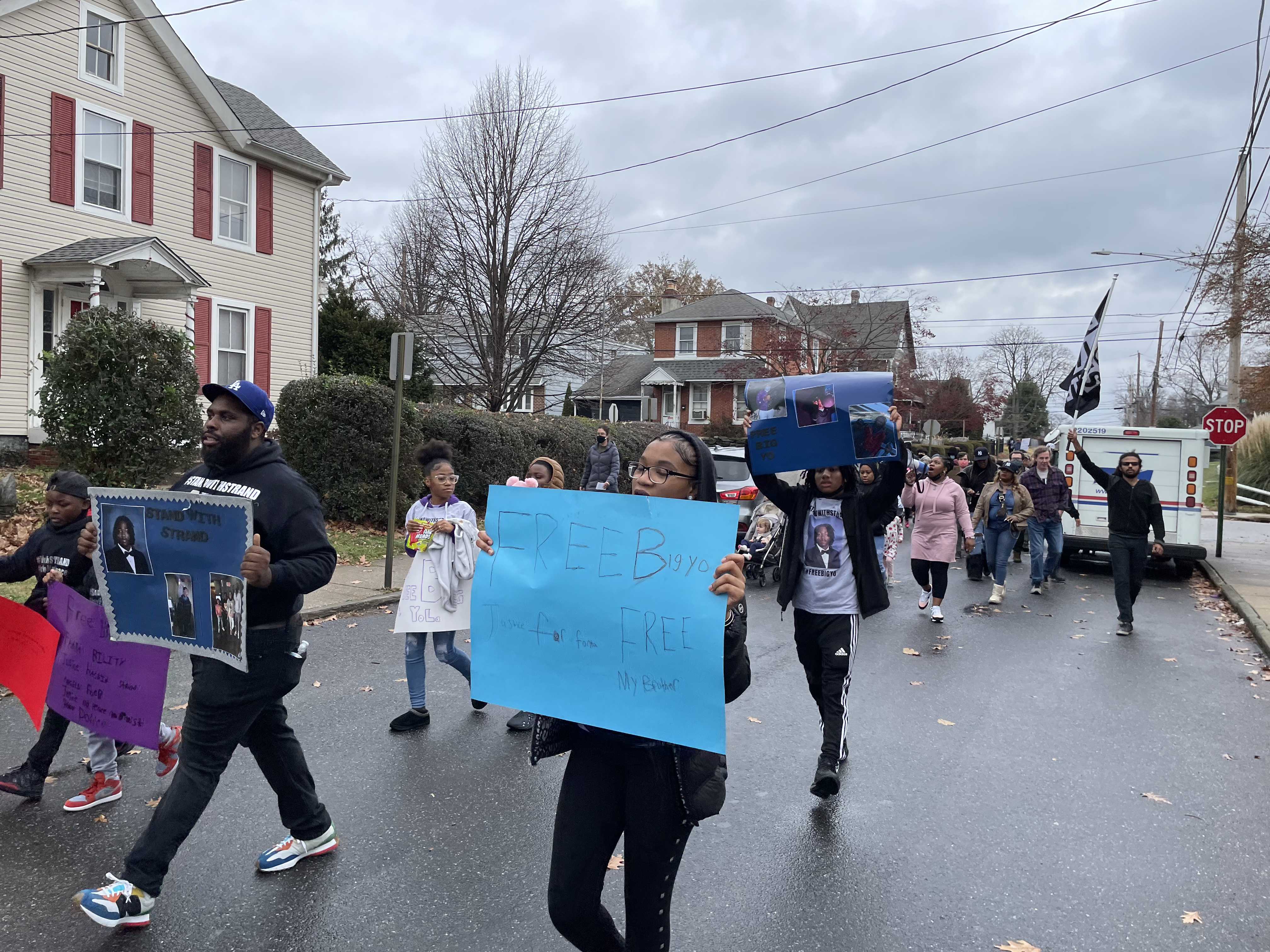 There are two types of justice for Jack Stollsteimer. One for police officers and another for the rest of us, one for white society and another for the Black community. Whatever words come out of his mouth, his actions broadcast his contempt and disregard for Black life. Our friends at Abolitionist Law Center stated rightly in an op-ed in the Philadelphia Inquirer that such contempt for Black life should 'disqualify those responsible from holding public office.'
Kris Henderson, Executive Director of Amistad Law Project, made the issue clear in an article published by Newsweek:
"…Stollsteimer has only compounded this tragedy by shielding the police from accountability and shamefully charging two Black youth with first-degree murder based on a ridiculous legal theory in an attempt to deflect attention from the undisputed fact that the Sharon Hill police killed Fanta Bility. Both he and the Sharon Hill Police must be held accountable for the ways they've harmed the community and fostered injustice."
Thankfully, people in Delco are mobilizing to hold them accountable. Led by young people in Delco Resists and UTDJ who are working in coordination with the families who have been impacted, a number of mobilizations have swept Delco protesting the Sharon Hill police and DA Stolllsteimer. People have rallied in Sharon Hill and in Media.  They have held teach-ins and vigils. They have reached out to political allies who are justice minded for support.