MONDAY 9/20: Show Your Support For Second Chances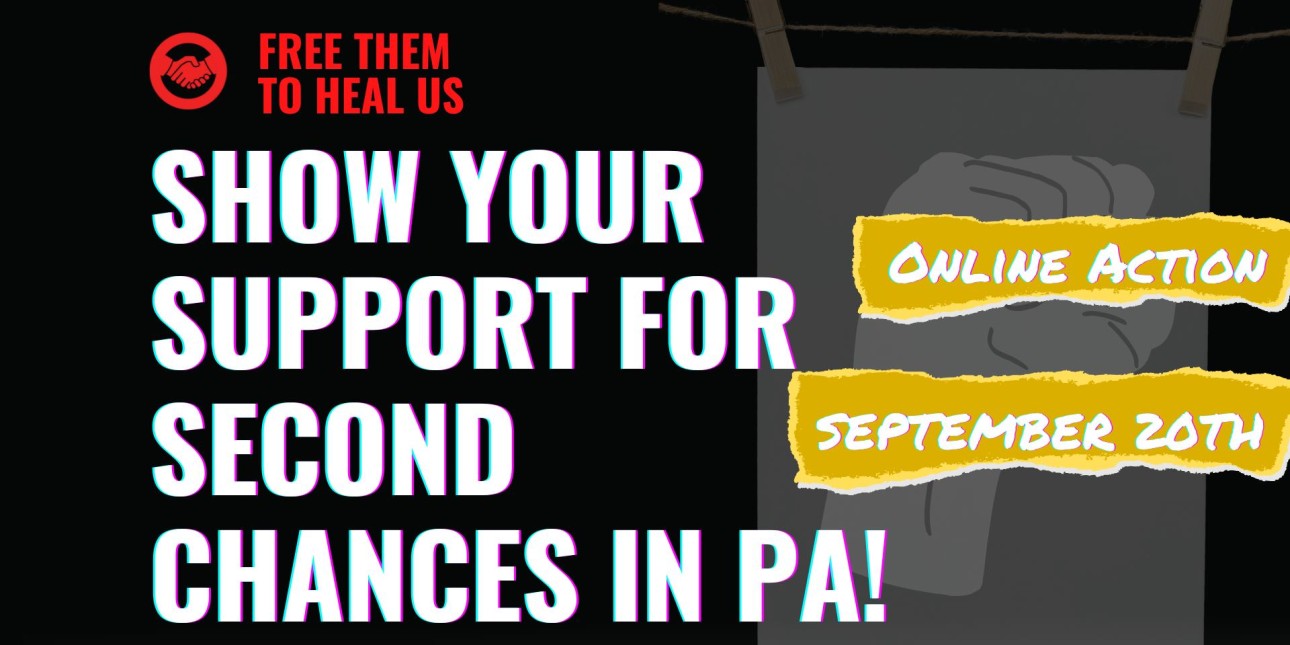 With thousands of people sentenced to life without parole and long term sentences, Pennsylvania leads the world in the number of people sentenced to die in our prisons, as well as the number of incarcerated elderly people. Our prisons are overcrowded, and our communities need their loved ones home. On September 20th, take action with us from home to show decision-makers in Pennsylvania that we support second chances for our locked up community members.
We're going to make signs sharing our reasons for supporting second chances, and on September 20th post pictures of ourselves, incarcerated loved ones, and our signs on Twitter, Facebook, and Instagram and tag key decision makers. This will put decision makers on notice, and give others in your community opportunities to get involved in the fight for second chances.
Why take action now? On September 22, the Board of Pardons (BOP) will hold merit review for six people serving life without parole or long term sentences. For people serving these sentences in Pennsylvania, commutation is currently one of their only possible avenue to freedom. Meanwhile, legislation has been introduced in the Pennsylvania legislature that would allow the possibility of parole for people serving life without parole and long term sentences, as well as a different bill that would give parole review to incarcerated elders.
Movements in Pennsylvania have been fighting for years for people serving endless sentences to have a meaningful opportunity to come home, and decision makers have been forced to take small steps in the right direction. Now isn't the time to let up. We need to loudly, proudly stand up for second chances.
How to take action:
1. Pledge to take action here.
2. Make a sign that says "I believe in second chances because ______" and fill in the blank with one or many of the reasons that second chances are important to you. If someone you care about is incarcerated and would benefit from a second chance, put their photo on the sign to lift up the humans at the heart of this issue.
3. Take a photo with your sign
4. Email your photo to lily@amistadlaw.org (this way, we can include your photo in a video we will drop on the day of the BOP hearings)
5. On September 20th, post your photo to social media with the hashtags #SecondChancesPA and #FreeOurPeople
Join us and show your support for second chances!