VIDEO: Nikki Grant Speaks on a 'A City and a World Without Police'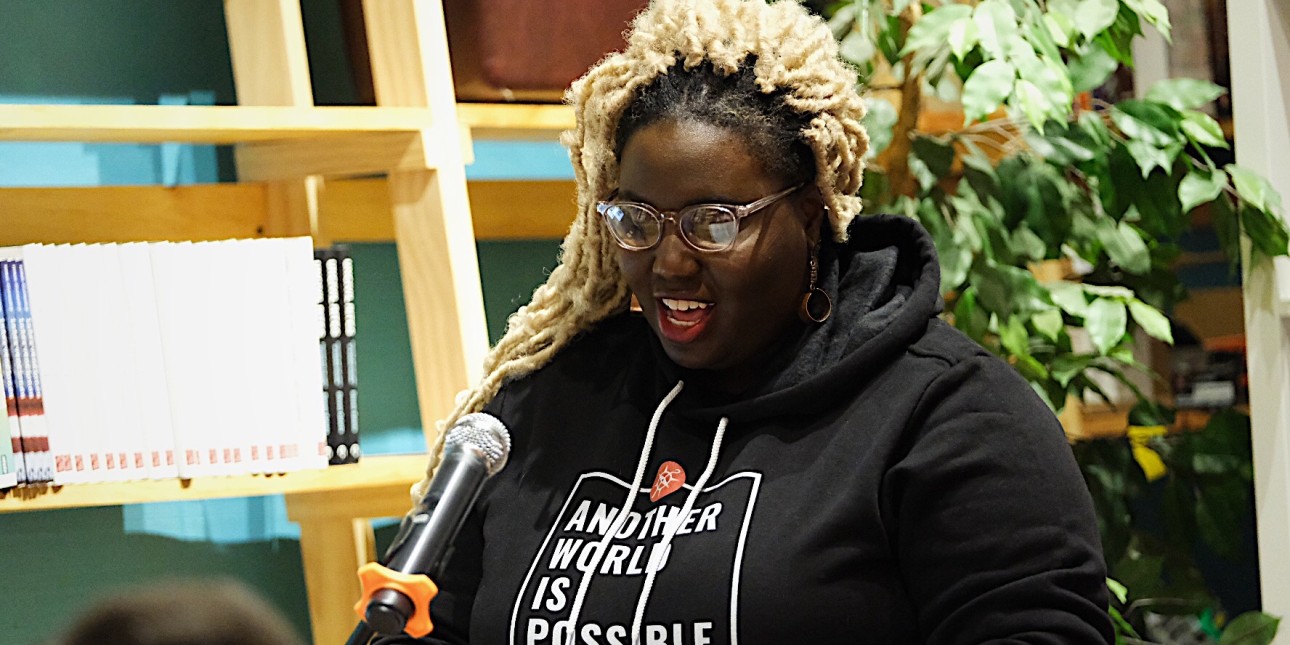 (Photo by Charles Davis)
The statement that 'the police keep us safe' is a piece of American mythology that masquerades as common sense.
In most situations police respond to acts of harm after the fact and do little to help those who were harmed heal or feel safe. They show up on the scene, interview witnesses, create an official narrative of events and possibly conduct some sort of investigation that sometimes results in someone being accused and arrested of that act of harm, but the most of time does not. At worst police the play a role akin to an occupying army in poor and working class Black and brown neighborhoods and harm and kill members of our communities.
As we've said time and time again 'cops can't heal'.
On Friday December 10th, Amistad Law Project's Nikki Grant joined a visionary panel at Making Worlds Bookstore and Social Center to talk about the possibilities of a world beyond police. There are a myriad of ways we can keep each other safe and start to replace the public safety failure that is policing. As Amistad Law Project has been fighting for with some limited success, we can create mobile crisis teams separate from the police that can respond to mental health emergencies. We can fund violence interrupter programs led by formerly incarcerated people with street credibility who can dissuade people from retaliating against violence and can help quash beefs. We can invest in jobs programs and community resources that can help reduce violence in the communities who are hardest hit by gun violence. We can get neighbors organized to look out for a defend one another and to interrupt situations of violence in the neighborhood. These are things that will actually keep us safe. We as communities and as a society keep each other safe.
Check out the video below and learn how we can replace police with strong communities from outstanding speakers such as Chris Rogers (Police Free Penn and Paul Robeson House), Krystal Strong (Black Lives Matter Philly) and Geo Maher (author of 'A World Without Police')