We Need More: Our Statement on the June Commutation Hearings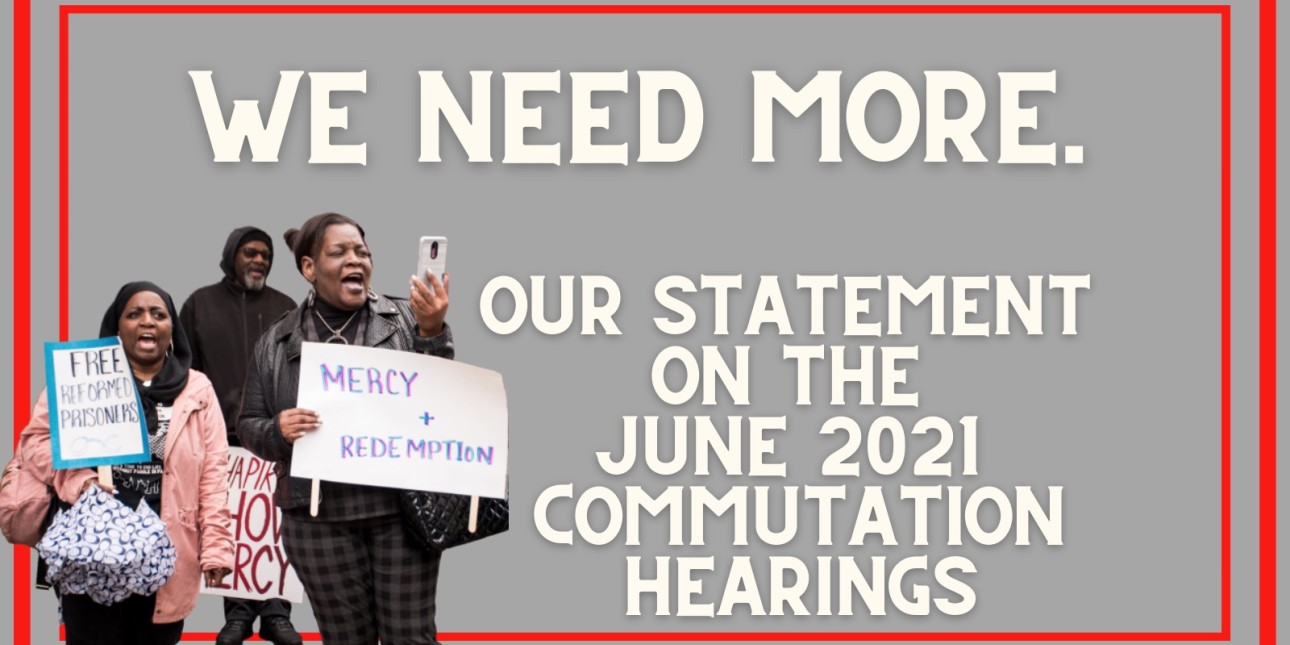 Today, the Board of Pardons voted to recommend three out of six commutation applications to Governor Wolf for his approval. We are elated for Amistad Law Project client Andre Davis, as well as lifers Jesse Faust and James Miller. Governor Wolf should sign their applications with haste so that they can be reunited with their families after decades of incarceration and our communities can benefit from their presence. Each person's freedom represents a step in the right direction.
While we celebrate those who are bound for freedom, we are deeply troubled by the Board's decision to deny Denise Crump and Wayne Covington's applications for commutation, as well as Richie Marra's application for reconsideration. All three of these candidates were unequivocally supported by the administrations of the prisons in which they have been incarcerated for decades. In each of these cases, the Board blocked the applicant's release, because family members of the victim opposed their release. Family members of victims deserve a safe place to express themselves, and abundant resources to navigate their grief. However, the question of whether someone is rehabilitated and should be released is necessarily separate from affirming a victim's pain. The Board's role is to answer the question of rehabilitation. In the cases of Denise Crump, Wayne Covington, and Richie Marra, the Board absolutely failed in its' duty, ignoring the current realities of the applicant's life and their transformative journey over the course of decades.
The Board has also completely failed in regard to Felix Rosado's application. Mr. Rosado is an exemplary person who, after being sentenced to life without parole when he was eighteen years old, has earned a bachelor's degree from Villanova and co-founded a restorative justice program. He is deeply remorseful for his crime and a community leader both inside and outside of prison. Many have spoken up about the positive impact that Mr. Rosado will have in our communities as a mentor upon his release. Mr. Rosado's continued incarceration is simply devastating for many of us on the outside as well as the communities to which he could offer positive contributions.
At its core, commutation is about mercy. It exists in response to the basic truth that all people are capable of change, and that over the course of time, many people reflect and grow and want to make up for the harm they have caused. Our movements are continuing to carve out a righteous path forward towards a Pennsylvania where people are not judged by the worst mistake they have made and the architects of mass incarceration aren't stealing the resources and reformed mentors our communities need to be safe, healthy, and thriving. We need Board of Pardons members who believe in this vision. As of now they are failing on most counts, but we will continue to hold them accountable and push this process forward. Our humanity and the future of our communities depend upon it.