Why We Are Fighting for Mobile Crisis Expansion in the Philly City Budget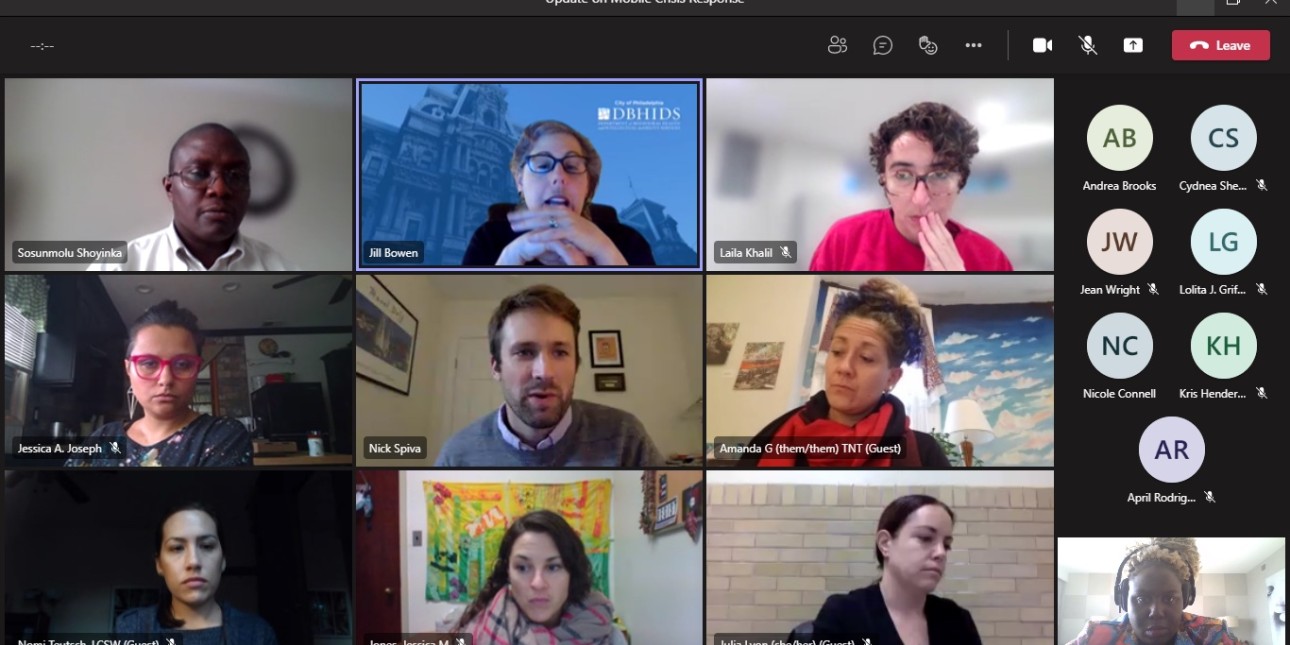 Imagine this: you're walking down a sidewalk, but suddenly you trip and fall to the ground. Hard. You feel a sharp, horrible pain and notice the uncanny angle of your leg. It's broken.
What happens next? Maybe you can reach for your phone, or perhaps a companion, neighbor, or kind stranger witnessed the event or heard you cry out and came to your aid. You or someone else dials 911. An ambulance comes within minutes and transports you to the emergency room, where you get the appropriate treatment to fix your broken leg so it can heal.
This is the typical scenario when people experience emergencies for their physical health. But in Philadelphia, when the emergency relates to someone's mental health, things get complicated.
For families or households where a member is suffering from a behavioral health crisis, whether from suicidality, substance use, psychosis, or other mental illness, calling for help has anything but a typical result. Currently, the best case scenario for an adult in crisis is finding and calling the 10 digit mental health crisis line (215-685-6440) during regular business hours and hoping that one of two mobile crisis units serving the entire city can intervene within a few hours of calling.
The worst case scenario is what faced the Wallace family -who had previously tried the other method of calling 911- which is having the police show up and killing the person in crisis.
We have said it time and again–Philadelphians deserve better than these unacceptable choices.
Last summer Amistad Law Project and the Treatment Not Trauma coalition won a groundbreaking concession from the city–a 7.2 million dollar allocation to the Department of Behavioral Health and Intellectual Disability Services (DBHIDS) for a mobile crisis team expansion pilot program. This pilot program built on the woefully under-resourced existing mobile crisis infrastructure and promised 24/7 coverage across the city.
A mobile crisis team consists of a licensed mental health professional, a nurse, and a certified peer specialist, someone who has lived experience and can relate to families in crisis. TNT met with DBHIDS several times in 2021 to outline what we believed would make a successful non-police response to mental health crises. We believe that mobile crisis teams should, among other things:
Be routed through 911 dispatch
Be directed to a wide variety of behavioral health crisis situations in order to avoid police interaction
Include transportation and warm hand off if more care is needed
Have strong follow up and continuum of care; and
Be good paying, sustainable jobs.
We were eager for the pilot program to launch and start providing these critical services to Philadelphians. We were hopeful that by the next budget cycle, DBHIDS would be able to demonstrate that Philly had joined the ranks of similar successful programs in other jurisdictions around the country, like CAHOOTS and STAR, and ready to enter the next phase.
But instead, we got disappointment.
DBHIDS hand-picked its partner companies that would be staffing the mobile crisis teams in the late summer of 2021–Merakey, Elwyn, PATH, JFK, and Consortium. As of February 2022, the teams are in training, have not launched, and are in fact not even fully staffed. The companies have struggled to fill the positions. Worse, DBHIDS has not committed to the program operating 24/7 as promised. Worse still is that we have heard that the Commissioner of DBHIDS, Dr. Jill Bowen, does not intend to ask for money in the budget this year to expand mobile crisis so that the whole city is covered.
The mishandled roll out of mobile crisis expansion stands in stark contrast to another program that no one asked for–Crisis Intervention Response Teams (CIRT), otherwise known as police co-responders. CIRT pairs an armed, uniformed cop with a mental health professional to respond to mental health crises. The CIRT program soft launched in the spring of 2021 and has been fully operational in 2022. Data on the program was available in September of last year. Two of the companies also charged with staffing mobile crisis teams, Merakey and Elwyn, have nevertheless successfully staffed their co-responder teams.
The co-responder model exists because of a deep and enduring entrenchment in the system of policing that has proven time and time again that it is not equipped to address safety concerns of people in crisis. Last year, we raised our voices and made it clear that we did not want police involved in mental health crisis response because their presence could agitate or traumatize individuals experience crisis or worse they could physically harm the individual who need help. Cops can't heal. While the city agreed to mobile crisis expansion, they refused to drop CIRT. And now, we can't help but wonder if the thing that our movement fought for is just being set up to fail.
But we won't let that happen.
Join the Philadelphia Treatment Not Trauma Coalition on March 15th, 12pm at 11th and Market St for a rally and press conference in front of DBHIDS headquarters. We will demand that DBHIDS ask for money in this years city budget to expand the mobile crisis program so that it covers the entire city 24/7. We will continue to fight for the mental health infrastructure that our communities need and deserve. We won't stop until Philadelphians can be guaranteed that if they call 911 for a mental health emergency, they will receive immediate, compassionate care and NOT cops.