Police Charged in Fanta Bility's Death, Charges Against Teens Dropped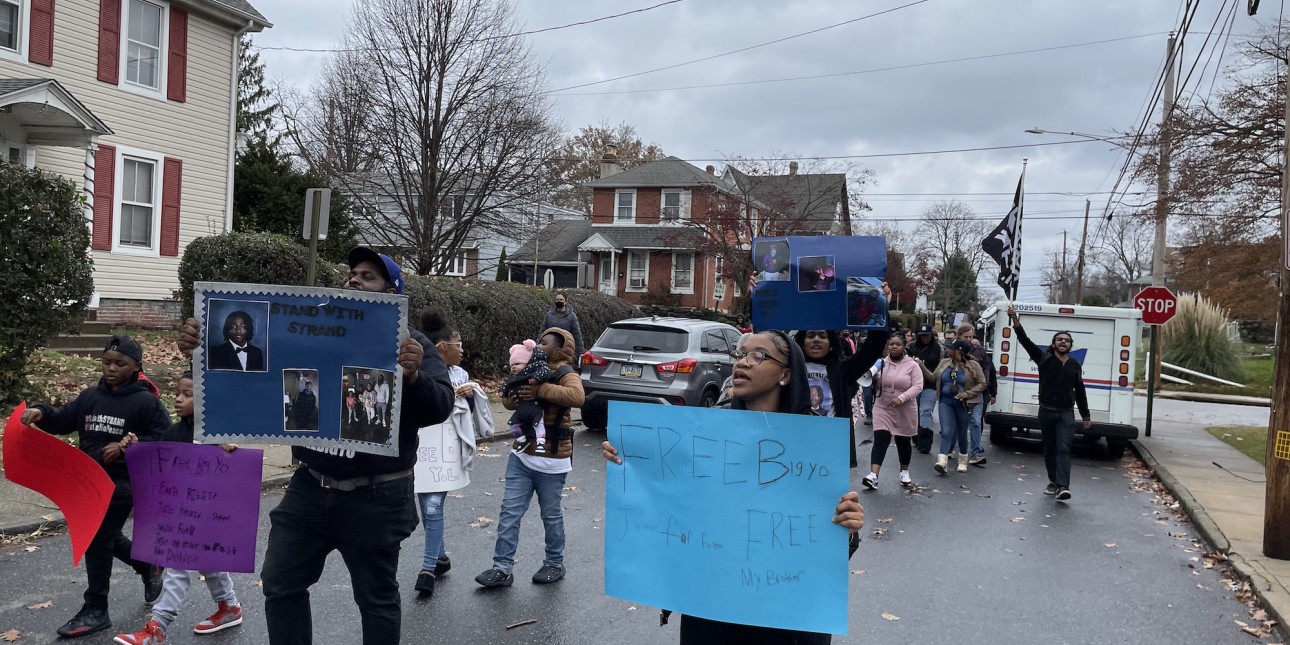 After six months of struggle, the local community and local social justice organizations were able to move the needle towards justice in the tragedy of 8 year old Fanta Bility's death.
As we have written about elsewhere, an incredible tragedy took place in Sharon Hill, Pennsylvania on August 27th 2021. Gunshots rang out as people were leaving a high school football game. Responding to the incident Sharon Hill Police unleashed a hail of bullets into a car they wrongly believed was the source of the gun fire. As a result of the reckless actions of the police 8 year old Fanta Bility, a Black child beloved by her family and community, was killed and 3 others were wounded.
On Tuesday, January 18th a grand jury finally announced that it was recommending charges against the three Sharon Hill police officers, Devon G. Smith, Sean Patrick Dolan, and Brian James Devaney, who played a role in killing Fanta Bility.
Previously Delaware County District Attorney Jack Stollsteimer had gone to great lengths to deflect attention away from the role of the police in the death of Fanta Bility.
First, he punted the determination as to whether charges would be filed to a grand jury, a typical move for prosecutors who don't want to take a stand in holding police accountable.
Secondly, while he referred the actions of the Sharon Hill Police to a grand jury, DA Stollsteimer would not do the same for Angelo 'AJ' Ford and Hasein Strand, the two Black teenagers accused of starting a gun fight with each other outside of the football game. Using a preposterous legal theory based on the doctrine of transferred intent he charged them both with first degree murder asserting that the teens alleged intent to kill one another should be transferred to the police officers who recklessly fired at a moving vehicle.
To summarize the injustice perpetrated by DA Stollsteimer, Kris Henderson of Amistad Law Project said the following in an article published by Newsweek "…Stollsteimer has only compounded this tragedy by shielding the police from accountability and shamefully charging two Black youth with first-degree murder based on a ridiculous legal theory in an attempt to deflect attention from the undisputed fact that the Sharon Hill police killed Fanta Bility,"
Due to tireless campaigning by the family members who were directly impacted, vibrant justice minded organizations such as UTDJ and Delco Resists, elected officials and also groups such as Amistad Law Project and Abolitionist Law Center, DA Stollsteimer was left with little choice, but to withdraw the first degree murder charges leveled against these teenagers. Read the collective statement issued by UTDJ and Delco Resists in response to charges being brought against the police.
Already, the case against Hasein Strand has been resolved as he plead guilty to aggravated assault and gun charges. He was sentenced to 32 to 64 months. First degree murder charges against 16 year old Angelo Ford will be withdrawn, but the community must be resolute that this young person is not railroaded into the adult prison system, but given an appropriate way to be accountable in the community.
As we continue to seek justice for Fanta and to hold the police who killed her accountable it is also important to hold DA Jack Stollsteimer accountable, because he is the person who will be prosecuting the case against them. That accountability starts with being clear about what he did and why he changed course.
DA Jack Stollsteimer says that he withdrew the murder charges against the two teens charged, because the grand jury recommended the cops involved be charged. This obscures the fact that he charged the teens WHILE the grand jury was in process. If the 'facts were too complex' - as DA Stollsteimer has said - to charge police without a grand jury they were also too complex to charge the two teens.
It is our assertion that DA Stollsteimer would have much rather just pinned the death of Fanta Bility on the teens and let the cops go. However, the local community, organizers and elected officials pointed out that his prosecution was a smokescreen, a fact the grand jury needed to hear while they deliberated.
In the end with the grand jury deciding to hold the police accountable, local organizers protesting him, elected officials speaking against his decisions and copious press attention on the case, Stollsteimer had to reverse course on charging the young people. His attempt at deflection failed.
We aren't 'fighting yesterday's war' by making the facts clear. It's important to understand what has happened. It's still his office that is charged with seeking justice for Fanta and we must keep a watchful eye, shine a light and hold him accountable as he prosecutes the police.
Going forward all eyes must be on DA Jack Stollsteimer during the prosecution of these police officers.
We know that prosecuting these cops will not change this system, but checking the political power of the police to kill with impunity is an important intervention by the community in defending itself. The balance of power in society currently tilts toward the police and we must forcefully shift that balance.
Please keep an eye on the social media of UTDJ and Delco Resists to find ways you can be involved in helping to move efforts towards justice forward.