500+ Attend People's Forum to Ask City Council Candidates Where They Stand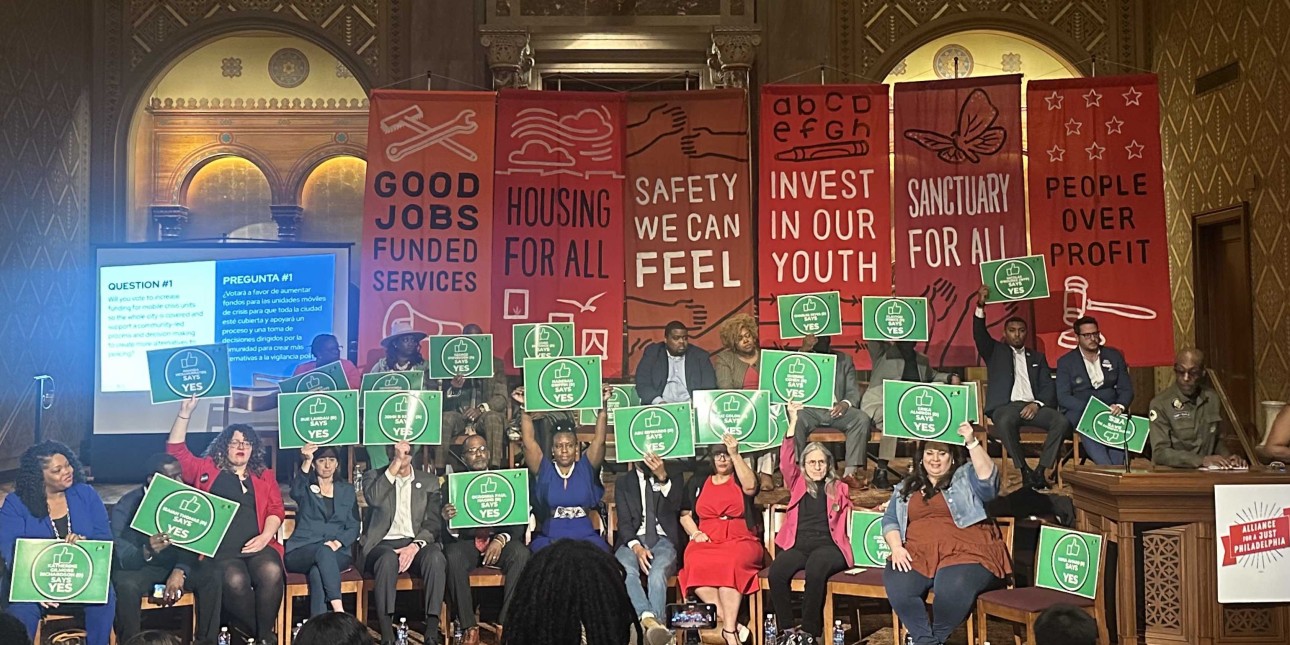 On Sunday, March 26th the people spoke and the leaders -or at least those who would like to lead us- listened.
Over 500 everyday Philadelphians gathered in North Philly at Congregation Rodeph Shalom for the Alliance for a Just Philadelphia's 'People's Forum', a candidate forum for all candidates for Philadelphia City Council-At-Large.
More than 27 candidates are running to represent us as At-Large members in Philadelphia City Council. It's hard to keep track of all of their names let alone to do the research on where they stand on the issues. Popular movements in Philadelphia of everyday people knew we had to create a forum where our people could learn more about the candidates and their positions. The Alliance for a Just Philadelphia, a collection of nearly 30 community organizations organized the People's Forum to do just that.
The format of the forum was unique in Philly politics. Instead of a platform for candidates to take up all the airtime, the People's Forum was designed to highlight the voices of everyday Philadelphians struggling around different issues. Domestic workers, residents of Chinatown, Latinx immigrants, service workers, Black people impacted by over-policing, toxic environments, and crumbling schools all had time to talk about the issues facing our communities and ask the candidates specific questions about policies under the control of City Council that could help us.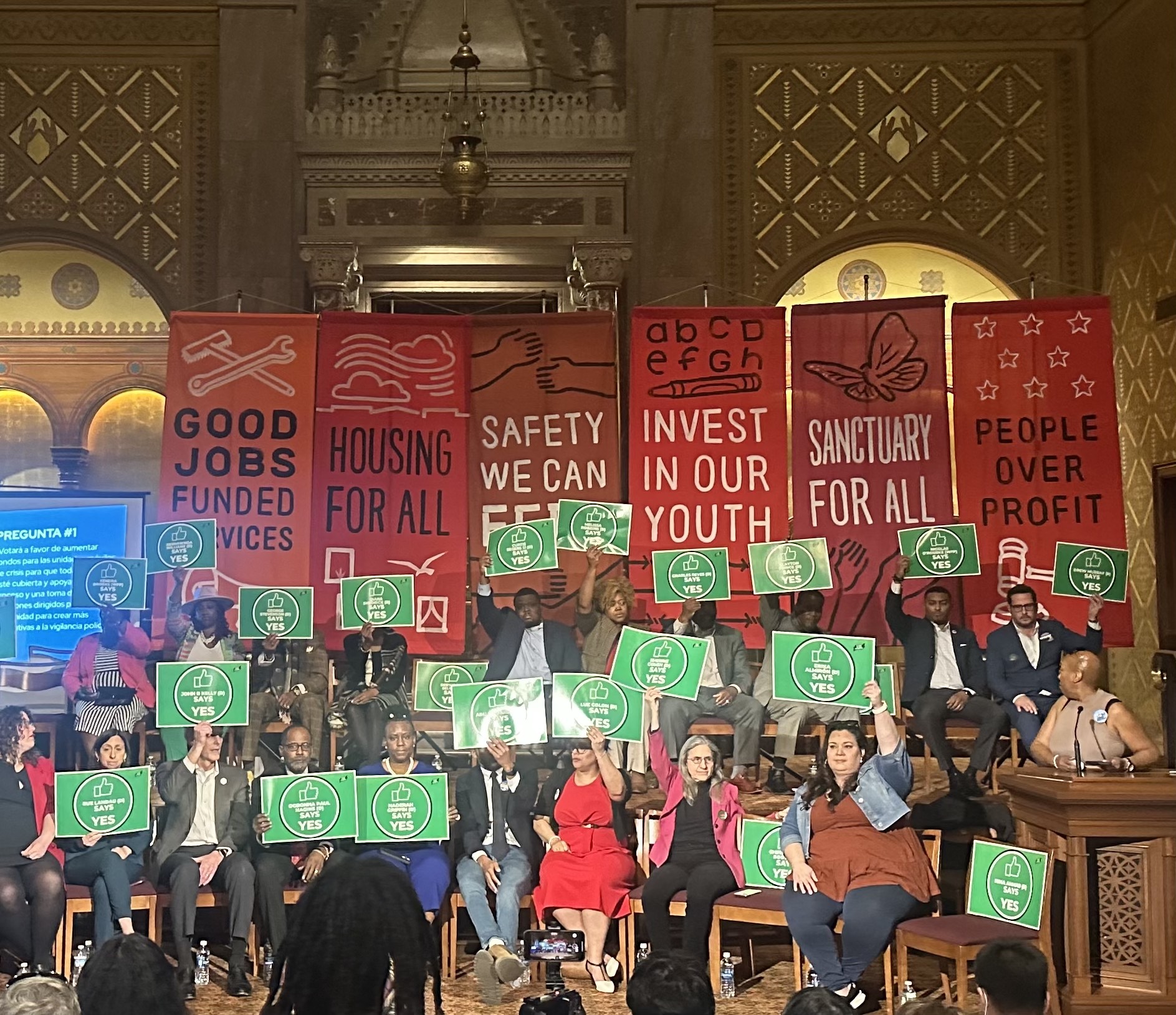 After speaking about how one of her children who has special needs could be harmed negatively during a police encounter, Tonya Bah asked a question on behalf of Amistad Law Project and Treatment Not Trauma about non-police mobile crisis teams for mental health emergencies.  "I want to know whether you will vote to increase funding for non-police mobile crisis units for mental health emergencies so the entire city is covered and will you support community-led process and decision making to create more alternatives to policing?" Every single candidate in attendance said yes. Expanding mobile crisis teams has been a long term campaign of Amistad Law Project and we were heartened by their answer.
Wei Chen and Debbie Wei of Asian Americans United spoke powerfully about their Chinatown community and the struggle it has faced. They spoke about the displacement their community has faced from big construction projects like the Convention Center and rejected the idea that their community is a tourist destination. They asked if candidates will oppose attempts to rezone or pass permits that would allow the construction of an arena that would threaten their community. All candidates said yes except for Drew Murray. As an organization that is headquartered in Chinatown who wants to see the will of long-term residents respected we were also heartened by that response.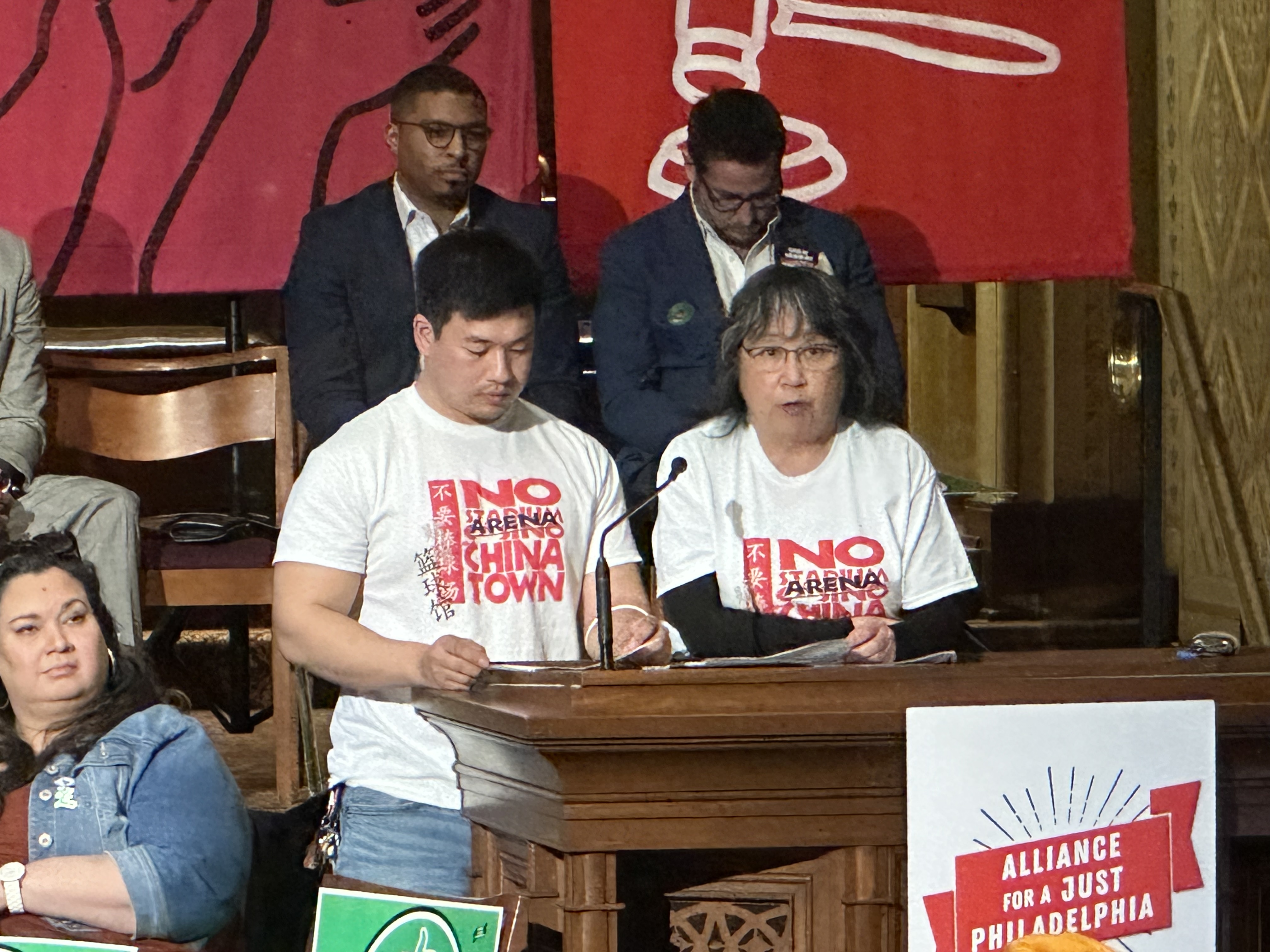 The day was filled with many such powerful interventions by people seeking to both educate people who want to lead our city and see where they stand on issues of community concern. You can watch the forum in full here and you can also read a twitter thread here that highlights all the questions that were asked and the answers to them.
The forum and the questions asked were grounded in the Alliance for a Just Philadelphia's People's Platform. A document released earlier this year that carries the policy priorities of the nearly 30 organizations that make up the Alliance. The 2023 People's Platform is broken into 10 different sections detailing policy priorities on the economy, healthcare, criminal justice, education, land and housing, environmental justice, democracy, immigrant rights, labor and public services.  Notably, the document carries the demands and priorities of organizations in the Alliance for a Just Philadelphia who work on these areas of focus and are led by people directly impacted by the issues at hand. In this formation Black-led organizations fighting mass incarceration and Latinx and Asian immigrant organizations fighting deportation are linked up with member run organizations that struggle for affordable housing, organizations of high school students, people in the disability rights community and more. It is a powerful constellation of people's movements focused on making real change for our communities. You can read the People's Platform in full here.
With a mayor's election and so many city council seats up for election not to mention judge elections at the state and municipal level, we have a once in decades opportunity to shape our city government and its policies. We urge everyone in our city and our communities to educate themselves about the candidates and the issues facing our communities and make sure you get out to vote on May 16th! You can register to vote here and sign up to vote by mail here. But make sure you register to vote by May 1st!
It's up to us to speak up about issues that concern us and it's up to us to elect leaders who will truly represent our interests. On Tuesday, May 16th get out and VOTE. And then stay involved and get organized with groups that are trying to make a positive change for our communities. Sign up to stay involved with Amistad Law Project's rapid response network below!