Sunday, March 26th: Come to the People's Forum for City Council At Large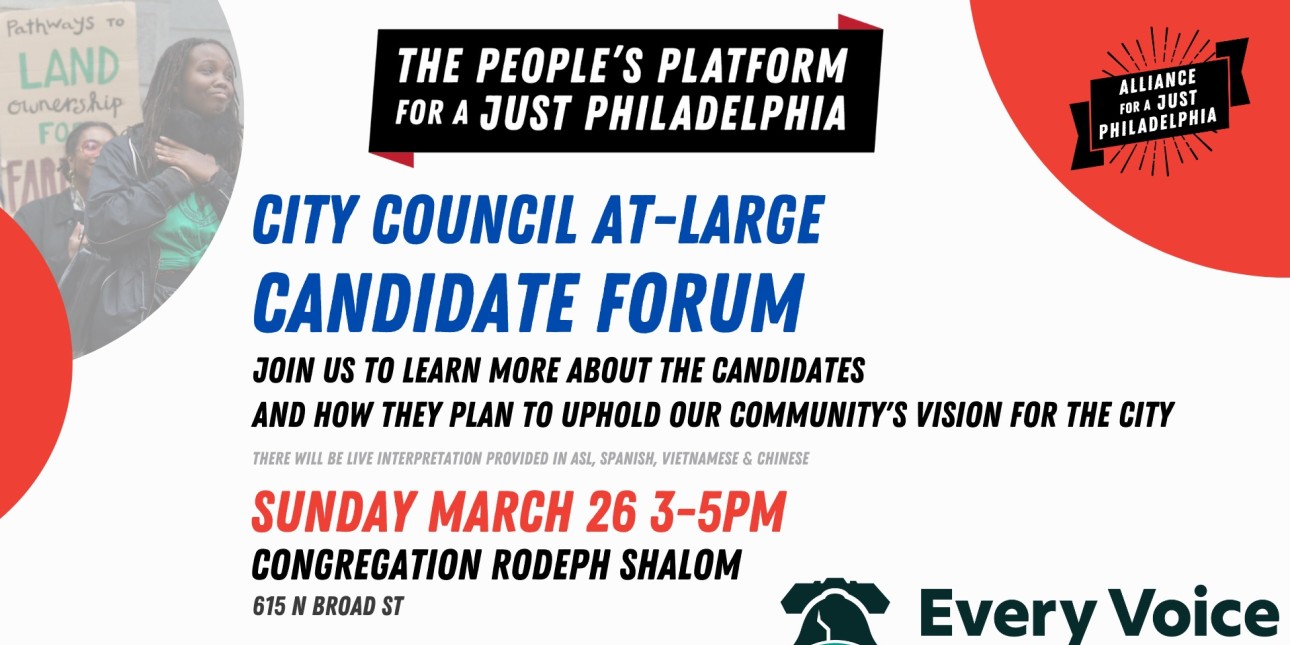 When the people who call this city home and make it work speak to those who want to govern us we can change their trajectory. When we stand in our collective power we can ask questions and share perspectives that change hearts and minds.
In 2019, over a thousand Philadelphians came to the first historic People's Forum for candidates for City Council-At-Large. We heard how the candidates planned to prioritize communities, affordable housing, an economy that centers communities over corporations, the schools we deserve, investment in real safety and so much more. And now in 2023 we're gearing up to do it all again with the 27 other organizations in the Alliance for a Just Philadelphia.
The People's Forum is different. It's not a platform for long speeches or shameless promotion. The People's Forum is a non-partisan forum designed so that everyday neighbors get a chance to tell these candidates about our vision for a safe and thriving city we all deserve.
This is a forum for us. And the people calling the shots and running the show are everyday neighbors who are concerned with how we get free. The people taking the mic are the ones fighting in their communities everyday and are ready to ask direct questions about how the candidates plan to address the problems we're facing in our communities. All questions are asked by people who are directly impacted by those issues from immigrant rights to communities impacted by mass incarceration to renters struggling for affordable housing and more. In advance of the forum we've come together to highlight the issues that matter to communities across the city. Read about the People Platform that was released by the Alliance For a Just Philadelphia earlier this year.
We're ready to make history again at the next People's Forum–and we need you there to make it a success.
We can't wait to see you at the People's Forum! Don't forget to register today!