VIDEO RECAP: Philly Rallies Against the Impeachment of DA Krasner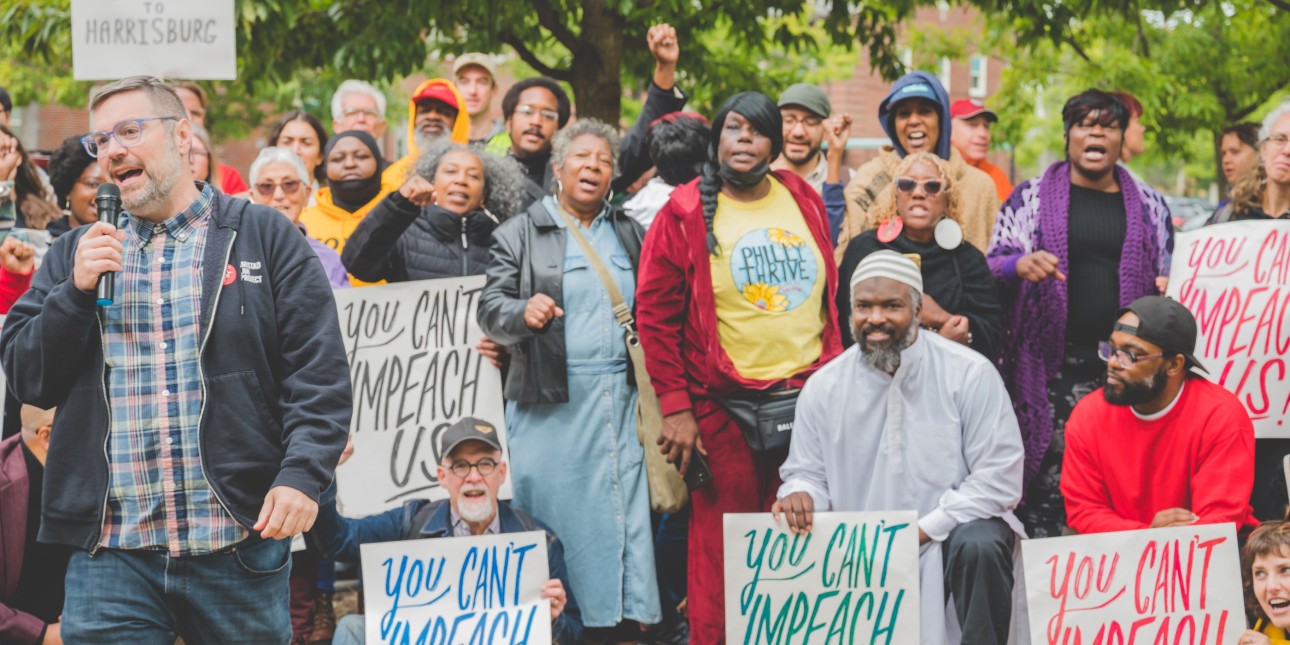 When people cast a vote and a free and fair election their vote should be honored not undermined. Recently, we stood tall and shoulder to shoulder with our movement family in defense of Philly voters right to democratically choose their own representatives.
In July of this year members of the PA House of Representatives started moving forward an effort to impeach Philadelphia District Attorney Larry Krasner and created the Orwellian House Select Committee on Restoring Law and Order. While DA Krasner has not been accused of any criminal; wrongdoing some politicians disagree with his criminal justice policies and are disingenuously trying to link him to a surge in gun violence that is occurring in cities and towns across the country.
Their stated target may be DA Krasner, but what they actually are doing is working to disenfranchise Philly voters especially voters from the Black and Brown communities that overwhelmingly elected DA Krasner. To do so in an election year sends a particularly chilling message: don't bother to come out to vote, because if we don't like who you've picked we will find a way to invalidate your vote.
In response to these political machinations which aim to disenfranchise Philly voters we mobilized. In late September, the House Select Committee on Restoring Law and Order held hearings down in the Navy Yard -a remote location far from most Philly neighborhoods- to limit participation and protest of the hearings. Along with Straight Ahead, Working Families Party, ACLU of PA, 215 People's Alliance, Reclaim Philadelphia, PENNfranchise and many others we organized a rally under the banner 'You Can't Impeach Us'. We gathered speakers -many of whom who had either lost loved ones to violence or been negatively impacted by the criminal justice system- and worked hard to pull together a two day protest with almost no notice. To put a fine point of what we thought of the machinations of the politicians behind this baseless impeachment attempt we worked with a local artist to organize an entire 'disenfranchisement circus' to hold a mirror to the this anti-democratic process.
Watch the video above to learn more about our efforts and join with us in defending democracy and the will of Philly voters.