You Can't Impeach Us: Philly Resists Attempts to Impeach DA Krasner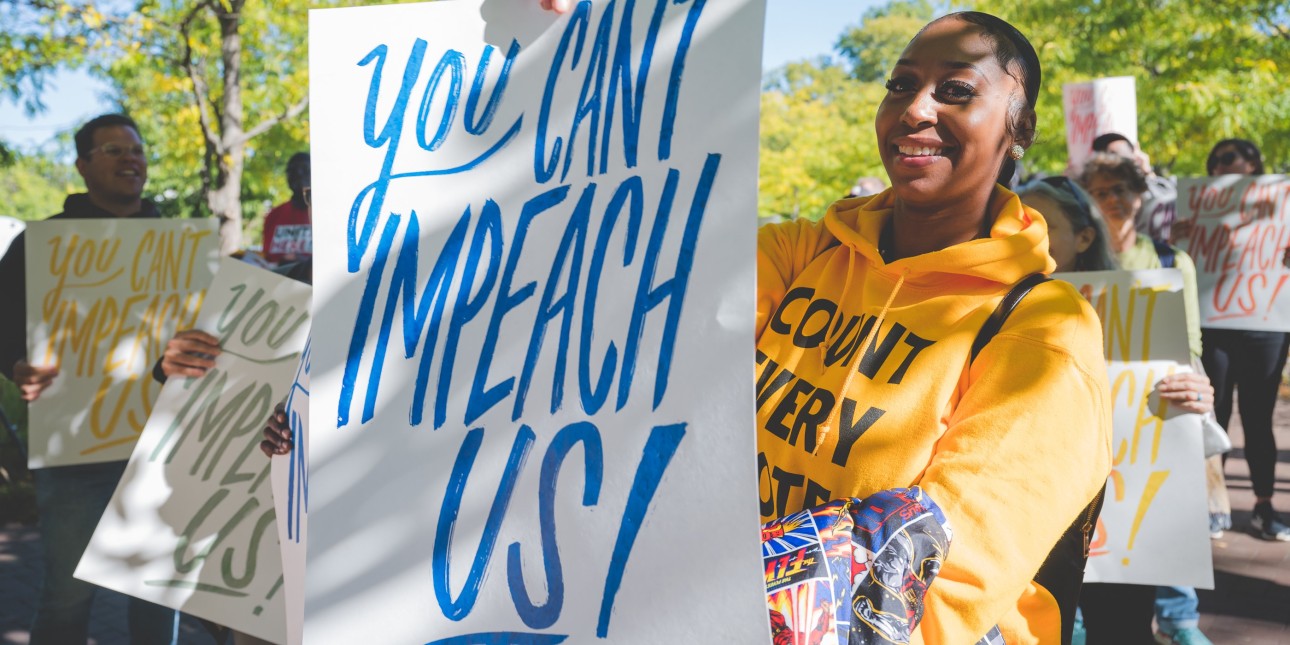 In 2017 and again in 2021 Philadelphians overwhelmingly cast their votes to put a criminal justice reform movement in power. After decades of the failed policies of mass incarceration and unchecked violent policing of Black and Brown neighborhoods, the people of our city put Larry Krasner, a progressive reformer, in charge of the Philadelphia DA's office.
While much unfinished business remains the strides in reducing mass incarceration since DA Krasner has been in office are evident. Most juvenile lifers -who at the time of DA Krasner's first election were being resentenced- were offered more reasonable resentencing offers allowing many to rejoin the community immediately and successfully we might add as they enjoy one of the lowest rates of recidivism of any group. A process for reviewing cases and recommending commutation was established in a critical moment when the Board of Pardons began considering more cases and granting more second chances to people serving life and longterm sentences who had turned around their lives. Importantly, after years of being able to operate with impunity, police started being charged and prosecuted for some of their crimes against everyday people. And -while we need an even more compassionate and restorative system- the list of substantial change goes on.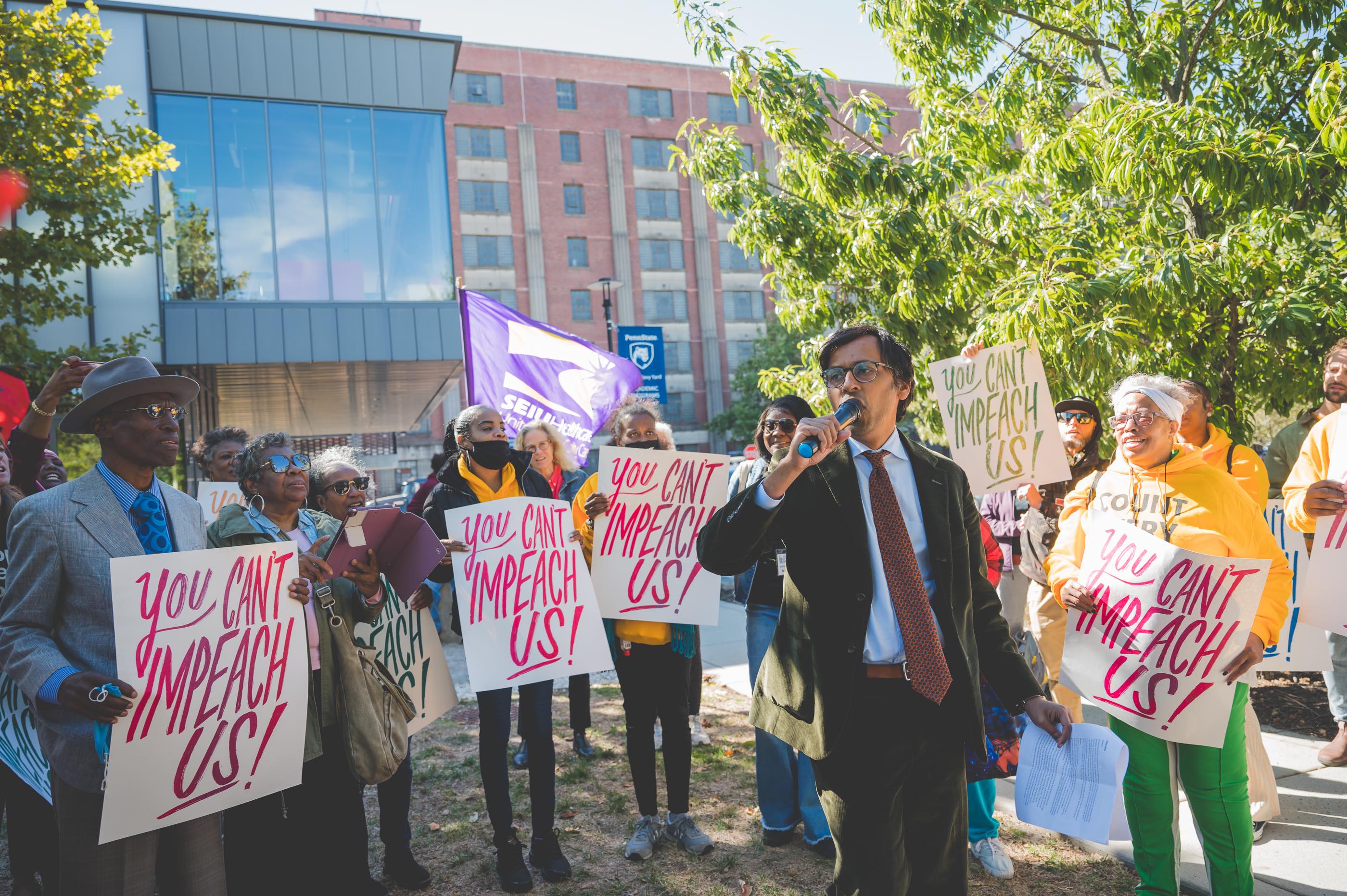 However, the interests of some individuals are just too threatened by a DA who would hold police accountable and work to reduce mass incarceration let him stay in power. In the context of a hotly contested election year over statewide offices, some politicians in Harrisburg began engineering sham impeachment efforts against Philly's democratically elected DA earlier this year. Their stated target may have been DA Krasner, but what they actually are doing is working to disenfranchise Philly voters especially voters from the Black and Brown communities that overwhelmingly elected DA Krasner. To do so in an election year sends a particularly chilling message: don't bother to come out to vote, because if we don't like who you've picked we will find a way to invalidate your vote.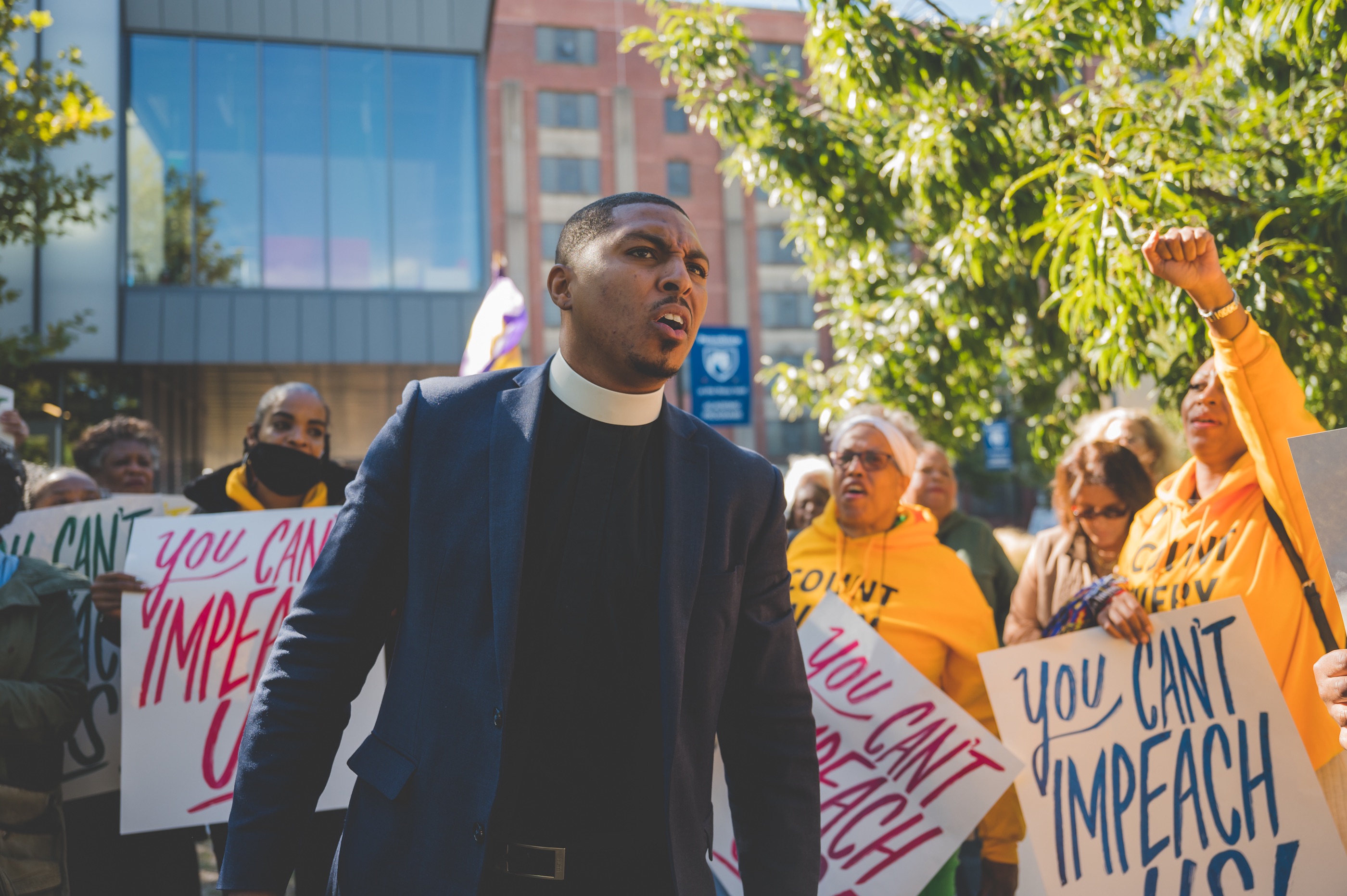 In July of this year members of the PA House of Representatives voted to impanel the House Select Committee on Restoring Law and Order to pursue impeachment efforts against DA Krasner who has not been accused of any criminal wrongdoing while in office. Moreover, the claims of some politicians behind this effort that Philadelphia is unique in having a crisis of gun violence are baseless. We are in the middle of a tragic, nationwide epidemic of gun violence spurred by a pandemic and decades of divestment in poor and working class neighborhoods. While some members of the General Assembly have attempted to make Philly look unique in the spike in violence it has in fact not had the highest rate of homicide increases in the past two years. Of the 13 PA counties with at least 300,000 residents, Philly had the 6th largest increase in homicides from 2019 - 2021, behind Chester, Allegheny, Berks, Lehigh, and Luzerne. Our communities need real solutions to the problems facing us such as violence interrupter programs and massive investments in social services not political stunts.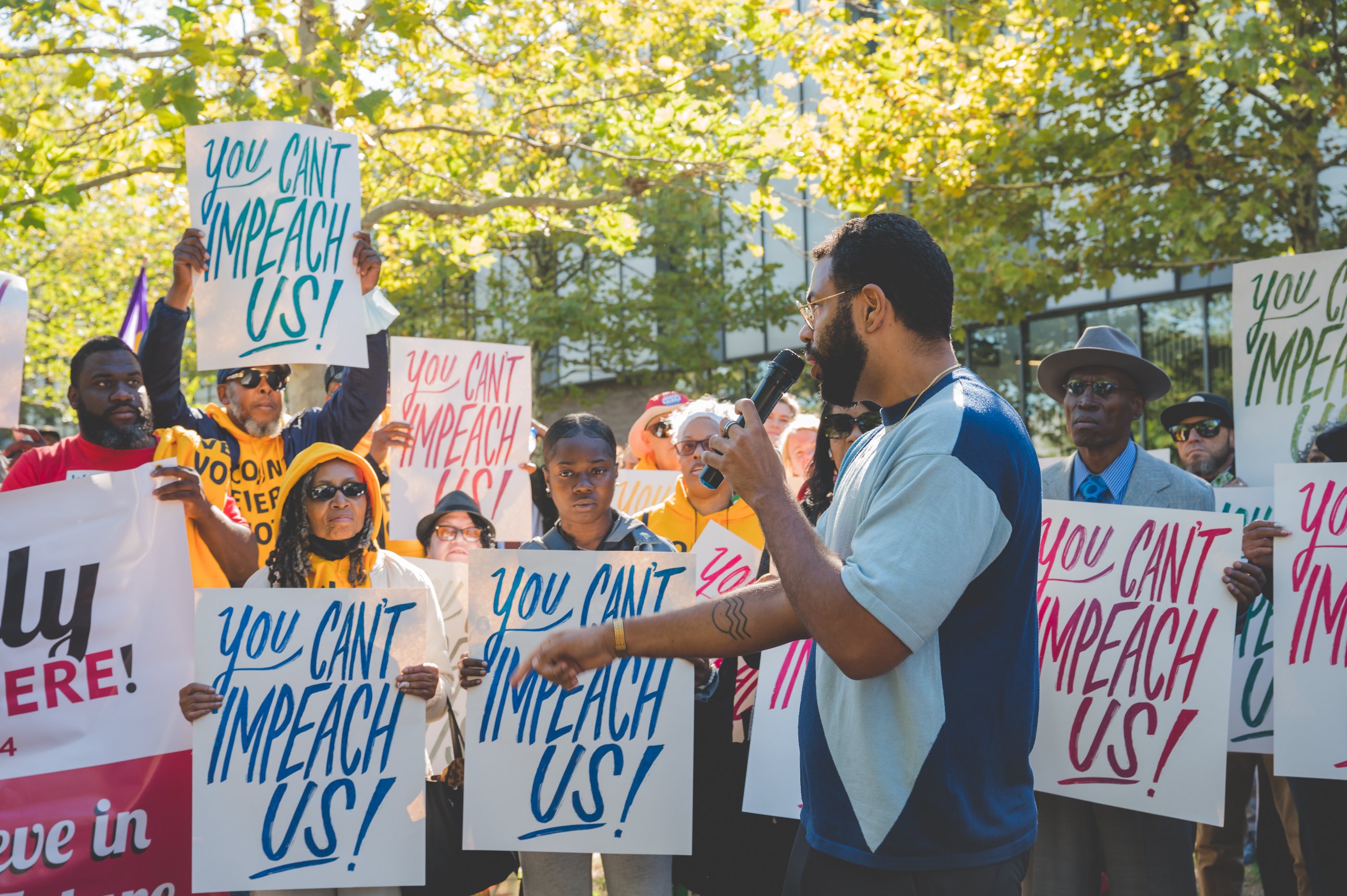 In response to this attempt to disenfranchise Philly voters Amistad Law Project and 25 other organization issued an open letter against the impeachment attempt.
Then in early September, another political stunt happened. In response to a subpoena from the House Select Committee that demanded the Philadelphia DA's Office hand over sensitive materials related to active homicide prosecutions against police and items that cannot legally be shared such as grand jury documents currently under seal, the Philadelphia DA's office filed a motion to challenge the legality of the subpoena. Then -even though the Philadelphia DA's office had followed proper procedure to challenge the subpoena in court- the PA General Assembly voted to hold him in contempt. Almost immediately afterwards hearings were scheduled of the House Select Committee on Restoring Law and Order and sequestered down at the Navy Yard to limit protest and public participation.
We sprung into action against this attempt at voter disenfranchisement. Along with Straight Ahead, Working Families Party, ACLU of PA, 215 People's Alliance, Reclaim Philadelphia, Pennfranchise and many others we organized a rally under the banner 'You Can't Impeach Us'. We gathered speakers -many of whom who had either lost loved ones to violence or been negatively impacted by the criminal justice system- and worked hard to pull together a two day protest with almost no notice. To put a fine point of what we thought of the machinations of the politicians behind this baseless impeachment attempt we worked with a local artist to organize an entire 'disenfranchisement circus' to hold a mirror to the this anti-democratic process.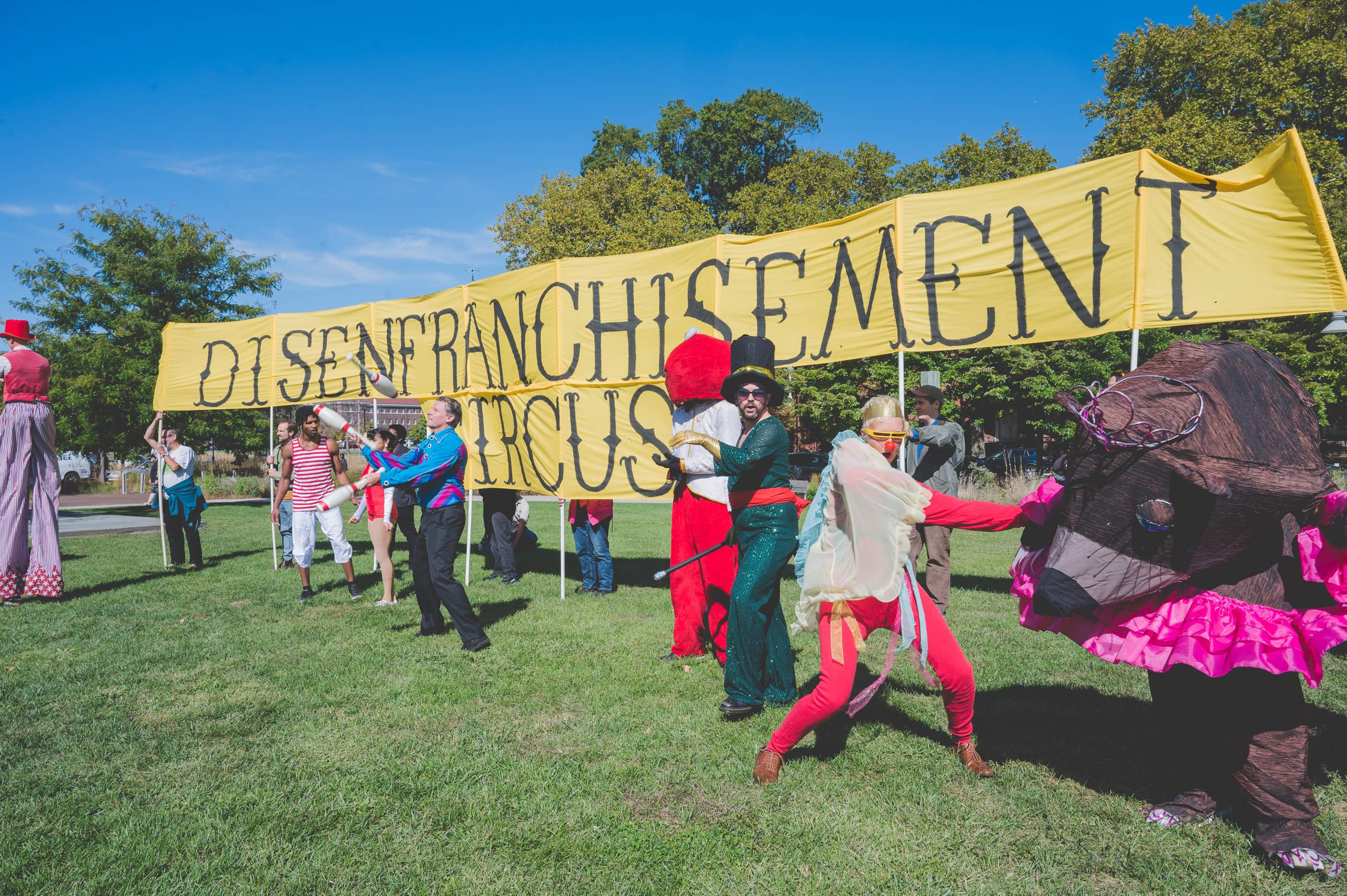 In 2017 Philly voters put a movement in power. And while we have made strides so much remains to be done. The root causes of violence in Philadelphia are due to the failure to address decades of poverty, unemployment, the crisis in affordable housing, and houselessness - all of which have been exacerbated by the COVID-19 pandemic and its attendant economic impacts. We need to build a movement to fight for more resources to build violence interrupter initiatives, living wage jobs programs the neighborhoods hardest hit by gun violence and to resource community institutions that could have a role in mitigating gun violence. 
We won't allow anyone to turn us around. We will continue to insist on the need to focus on the root causes of crime -wealth inequality, racial inequality and massive divestment from the neighborhoods hardest hit by gun violence- and to mobilize resources to heal our communities.
In order for DA Krasner to be stripped of office a majority of the PA house must vote to impeach him and then 2/3rd of the Senate must vote to strip him of office. Please contact your State Senator here to let them know that they must uphold the will of Philly voters.
Read news coverage of our mobilization against the hearings of the impeachment committee here:
Krasner Impeachment Hearings Kick Off, with Witnesses —Many on Videotape — Also Placing Blame on Mayor and Police Commissioner (Billy Penn)
DA Larry Krasner Criticizes Closed-Door Impeachment Hearing (CBS)